This article is part of my Cirque du Soleil Primer Article Series.
Aurora

"Those who are able to walk on stilts can roam the earth unstopped by mountains or rivers. They are able to imagine flying and therefore to reach the Isles of the Immortals."
P'ao-Pou Tseu

In the early eighties, a group of young street performers pooled their talent and dreams and founded the "Club des Talons Hauts" or "High-Heels Club", aptly named because most of them were stilt-walkers. The Club also featured fire eaters, jugglers and other buskers. At that time, Quebec did not have a circus tradition as did several European countries.
So the Club members decided to organize a festival, where street performers could come together to exchange ideas and techniques. They called it the "F??te Foraine de Baie St-Paul" (the Baie Saint-Paul Fair). That was all a few visionaries needed to hatch the idea of bringing all this talent together under one roof, or – why not? – a big top! Cirque du Soleil was born.
Cirque du Soleil ??? Historic Time-line 1984 – Present
The story begins in 1982, in Baie-Saint-Paul, Quebec. In this haven of creativity whose rural charm attracts artists, art collectors and tourists alike, a group of young street performers mix with the crowd, walking on stilts, juggling and eating fire. Inspired by the spectators' obvious delight, the performers hatch the idea of organizing an entertainers' festival-the precursor of what is to become Cirque du Soleil.

1984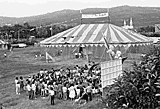 Cirque du Soleil is born with the assistance of the Quebec government, as part of the celebrations surrounding the 450th anniversary of Jacques Cartier's arrival in Canada. Cirque is based on a totally new concept: a striking, dramatic mix of the circus arts and street entertainment, featuring wild, outrageous costumes, staged under magical lighting and set to original music. With not a single animal in the ring, Cirque's difference is clear from the very start. The show debuts in the small Quebec town of Gasp??, and is then performed in ten other cities throughout the province. The first blue-and-yellow big top seats 800.

1985
After performing in Montreal, Sherbrooke and Quebec City, Cirque du Soleil leaves its home province for the first time to take its show to neighbouring Ontario. It performs in Ottawa, Toronto and Niagara Falls.

1986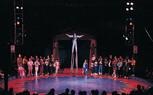 Cirque du Soleil takes La Magie Continue to eight other cities across Canada, including Vancouver, where it puts on several performances at the Children's Festival and Expo 86. Cirque makes its name on the international stage too, as acts are awarded top honours at competitions and festivals around the world. As interest in Cirque grows, so does the big top, which now has room for 1,500 spectators.

1987

Cirque du Soleil visits its American neighbours for the first time. Having triumphed in five cities in Quebec, We Reinvent the Circus is performed at the Los Angeles Festival, and then moves on to San Diego and Santa Monica. Exhilarated by the Californian public's response, Cirque du Soleil is an overnight success.

1988
We Reinvent the Circus continues its North American tour, after a brief appearance at the Calgary Winter Olympics. It stops in San Francisco, New York and Washington, and spends several weeks dazzling Toronto. Wherever it goes, the result is the same: the performances sell out and the critics rave.


1989
Miami, Chicago and Phoenix are added to the We Reinvent the Circus tour. Since its beginnings in 1984, Cirque du Soleil has won many prestigious prizes, including Emmy, Drama Desk, Bambi and Ace awards, G??meaux and
F??lix trophies, and a Rose d'Or de Montreux.
Cirque du Soleil's performers have taken part in and won several awards at various festivals throughout the world, including the Festival international du cirque de Monte-Carlo, the Festival mondial du cirque de demain (France), the Festival international de cirque de V??rone (Italy), the Festival international de cirque de G??nes (Italy), and the Wuhan International Acrobatic Art Festival (China).

1990

Montreal is the setting for the world premiere of a brand-new production, Nouvelle Exp??rience, in a new, 2,500-seat big top. The show then hits the road for an extensive run in California.
With this new production, Cirque du Soleil shatters all previous records for ticket sales, and it decides to make its first foray into Europe, staging We Reinvent the Circus in London and Paris. The overseas excursions have just begun.

1991
Nouvelle Exp??rience continues on its travels across North America, visiting Atlanta for the first time. By the end of an extensive 19-month tour of Canada and the United States, 1.3 million spectators have cheered the show.

1992
Cirque du Soleil crosses the Pacific and makes a name for itself in the Land of the Rising Sun with Fascination, a collage of the best acts from past shows. The show opens in Tokyo and then moves on to seven other cities, for a total of 118 performances in four months. Meanwhile, in Europe, Cirque du Soleil joins forces with Switzerland's Circus Knie and stages a show in over 60 towns throughout the country. In North America, 1992 sees Cirque du Soleil make its Las Vegas debut when Nouvelle Exp??rience kicks off a year-long engagement under a big top at the Mirage Hotel. Already juggling several productions, Cirque du Soleil adds a monument to its repertoire of shows: Saltimbanco. Premiering in Montreal, this latest production begins a lengthy tour of North America.

1993
Following Nouvelle Exp??rience's successful run in Las Vegas, Cirque du Soleil moves into a theatre built to its specifications at the new Treasure Island Hotel. A 10-year contract is signed with Mirage Resorts to stage Myst??re, a gigantic production befitting this show business capital. Saltimbanco completes its 19-month North American tour of a dozen cities, receiving resounding ovations from 1.4 million spectators.

1994

Saltimbanco embarks on a six-month run in Tokyo in 1994 that attracts a great deal of attention. The same year, Cirque du Soleil celebrates its tenth anniversary with another production, Alegr??a. True to tradition, the two-year North American tour is launched in Montreal. Meanwhile, Myst??re continues to create a sensation in Las Vegas, and Saltimbanco returns to Montreal for a brief run.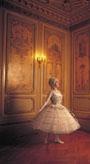 1995
While Alegr??a pursues its triumphant North American tour, Cirque du Soleil responds to a request from the Canadian government and creates a show for the heads of state gathered at the G7 Summit in Halifax, Nova Scotia. Also in 1995, Saltimbanco sets out to conquer Europe. Cirque's spectacular white big top with seating for 2,500 spectators makes its first stop in Amsterdam, followed by Munich, Berlin, D??sseldorf, and Vienna. Amsterdam becomes the site of Cirque du Soleil's European Headquarters.

1996

In April, Cirque launches Quidam in Montreal. After finishing its hometown run, Quidam heads off on a three-year North American tour.
Meanwhile, Saltimbanco continues its European tour, with stops in London, Hamburg, Stuttgart, Antwerp, Zurich and Frankfurt, while Alegr??a sets out to tour Asia for a few months.
In November 1996, Sylvie Fr??chette, Olympic synchronized swimming gold-medallist, joined Cirque du Soleil as a performer and coach for the aquatic show "O".

1997
Quidam continues to capture the hearts of North American spectators, adding two new cities, Denver and Houston, to the tour. On the other side of the Atlantic, the curtain falls on Saltimbanco at London's Royal Albert Hall, marking the end of a two-year European tour. Alegr??a kicks off its own tour of Europe a few weeks later. But Cirque du Soleil's adventures do not end there. In May 1997, Cirque du Soleil announced that shooting would begin for a film inspired by its show Alegr??a. In Alegria the film, the magical spellbinding universe of Cirque becomes the backdrop for a tender love story between a street performer (Frac) and the lead singer of a travelling circus (Giulietta).
The year 1997 begins with the inauguration of the brand new International Headquarters in Montreal, the Studio, where all of Cirque's shows will be created and produced.
Construction of the International Headquarters was completed in late 1996, making it possible for more than 500 permanent Montreal employees to work together. It is there that all of Cirque du Soleil's shows are created and produced. Construction of the Headquarters represented an investment of approximately 40 million dollars.
Cirque du Soleil's International Headquarters are in Montreal. In addition, it has four regional headquarters: the Americas, Asia-Pacific, European and Las Vegas headquarters.

1998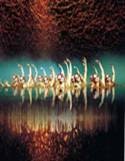 While Alegr??a pursues its journey across Europe, Quidam finishes up its North American tour, which includes a stopover in Dallas, a first for Cirque du Soleil. During its three-year tour, almost 1,000 performances have been held under the blue-and-yellow big top. All in all, over 2,500,000 North American spectators have applauded Quidam.
Furthermore, in October 1998, Cirque du Soleil's second resident show, "O", takes to the stage of a new theatre at the Bellagio in Las Vegas. This production is Cirque's first aquatic show. In December of the same year, Cirque inaugurates yet another permanent show, La Nouba, at the Walt Disney World Resort near Orlando, Florida. Cirque du Soleil also restages Saltimbanco in Ottawa for a few weeks before sending it off on an Asia-Pacific tour scheduled to last three years.
In November 1998, shooting began on a first large-format (IMAX) film, which will feature performances by various Cirque du Soleil artists in natural and historic sites around the world. Journey of Man has opened in movie theatres in December 1999.

1999

Saltimbanco sets up shop in Asia and the Pacific and begins a three-year tour of the region in Sydney. In March, Quidam embarks on a four-year European tour in Amsterdam. In addition, Cirque du Soleil's brand-new production, Dralion, launches its North American tour in Montreal.
In May 1999, the Alegr??a production, which has already dazzled audiences on three continents, finds a permanent home at Beau Rivage, a new resort in Biloxi, Mississippi. This resort is a property of Mirage Resorts Incorporated, Cirque du Soleil's partner for its two Las Vegas productions. The dinner show Pomp Duck and Circumstance sets off on a European tour. To top it all off, the multimedia division Cirque du Soleil Images releases its first feature film, Alegria, inspired by the show of the same name. Incorporating actual Alegr??a acts, the film is directed by Franco Dragone and produced by St??phane Reichel ("Crash", "Black Robe", "Quest for Fire"). Alegria the film was launched in theatres in April 1999.
Its dynamic team also produces Cirque du Soleil Presents Quidam, a spectacular television version of the show to be aired around the globe.

2000

Audiences on three continents continue to marvel at Cirque du Soleil's four resident shows (La Nouba, Myst??re, "O" and Alegr??a) and three touring productions (Quidam, Saltimbanco and Dralion). In the year 2000 alone, close to 6 million spectators will attend Cirque du Soleil shows worldwide. Moreover, movie fans will enjoy seeing Cirque du Soleil in its first-ever large-format IMAX production, entitled Cirque du Soleil Journey of Man (Cirque du Soleil Passages in French). Distributed by Sony Pictures Classics, the film will open in Montreal, New York and Los Angeles in May 2000 after a grand premiere in Berlin in January.
Since 1984, more than 23 million people from around the world have seen one of Cirque du Soleil's productions. On a typical weekend in 2000, some 50,000 people will see one of Cirque's several shows being staged simultaneously around the world. Cirque employed more than 2,100 people, including 500 performers, from several countries. The average age of Cirque du Soleil employees is 32.

2001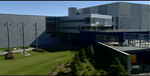 In Auckland, New Zealand, Alegr??a kicks off a three-year tour through the immense Asia-Pacific region. In addition, Cirque du Soleil keeps on growing with the February inauguration of a 14,000-square-metre addition to its International Headquarters in Montreal. Audiences on four continents continue to marvel at Cirque du Soleil's three resident shows (La Nouba, Myst??re, and "O") and four touring productions (Quidam, Saltimbanco, Alegr??a and Dralion). In the year 2001 alone, close to 6 million spectators will attend Cirque du Soleil shows worldwide.
Since 1992, close to 2 million people have attended a Cirque du Soleil show in Asia.
By 2001 Cirque du Soleil has produced numerous shows: Cirque du Soleil (1984-1985); La Magie continue (1986); We Reinvent the Circus (1987-1989); Nouvelle Exp??rience (1990-1991); Fascination (1992); Saltimbanco
(1992-2001); Myst??re (running since 1993); Alegr??a (1994-2001); Quidam (1996-2002); "O" (running since October 1998); La Nouba (on stage since December 1998); and Dralion (1999-2001).
Cirque du Soleil has performed in over 120 cities throughout the world, including Los Angeles, San Francisco, Chicago, New York, Tokyo, Osaka, Hong Kong, Paris, London, Amsterdam, Berlin and Vienna.

2002

The touring show Varekai, by first time director
Dominic Chapagne (who will continue to direct other Cirque du Soleil productions since then), premiered in April 2002 in Montreal.
During the creation process of Varekai, a film crew was shooting a reality TV series about some of the shows performers and their struggle in the process of the shows development and creation from start to finish. The series was aired world wide in the same year.
On March 24, 2002, Cirque du Soleil performs at the awards show for the 74th Academy Awards (Oscars) at the old Grauman's Chinese Theatre in Hollywood (Los Angeles, California).

2003

July 2003, Zumanity at the New York, New York hotel and casino in Las Vegas. First Cirque du Soleil production for adults only. Created by Dominic Chapagne and Ren?? Richard Cyr.
Cirque du Soleil creates it first ever production for Television called ???Solstrom???. Solstrom is a 13 parts TV series featuring over 250 artists in over 130 acts from many Cirque du Soleil shows and elsewhere. It also includes a number of celebrity guest performances.

2004

On June 16, 2004 – Cirque du Soleil set a new record for the Guinness Book of World Records when they gathered 544 employees in the Montreal Headquarters and had them stilts walking at the same place, at the same time.
November 2004, the epic show and biggest Cirque du Soleil production to-date, KA, directed by Robert Lepage was launched at the MGM Grand hotel and casino in Las Vegas, Nevada.
Cirque du Soleil celebrates its 20th birthday with the people of Montreal in the streets of their hometown and location of their corporate headquarters. The recording of this event is later published on TV under the name ???Midnight Sun??? (Soleil de Minuit).

2005
The first touring show after almost three years was launched in April in Montreal, Canada. The name of the show is ???Corteo??? and has an ???Italian theme???. It was created and directed by another new director for Cirque du Soleil, Daniele Finzi Pasca.

Cirque created and performed the special creation "Reflections in Blue" (R??flexions de bleu), a unique one-night water show as part of the opening ceremonies for the XI. World Aquatics Championships (FINA) in Montreal, Canada

2006

The Beatles ???Love??? at the Mirage resort
and casino in Las Vegas. The first official collaboration with the Beatles since their last public performance on January 30, 1969. It is also the first Cirque du Soleil production that does not incorporate live music, since it
uses original Beatles material that was mixed and re-arranged by Sir George Martin and his son Giles Martin.
Delirum, the first Music Concert and arena show production is launched in January of 2006. The concert show was created and directed by Michel Lemieux & Victor Pilon and is full of references to traditional Cirque du Soleil
touring shows, visually and musically. Delirum will run for only two years and not continue to tour outside the United States (with the exception of its final performances in London, UK) for unknown reasons.
For the World Out-games 2006 – Cirque du Soleil performs the Hand in Hand Act. The opening ceremonies for the 1st World Out-games with 30,000 spectators was held in Montreal's Olympic stadium on Saturday night July 29, 2006.

2007
After another two years without a new touring show, Kooza, directed by David Shiner, debuted in April in Montreal, Canada. Kooza goes back to the traditional Circus theme and elements.
November 2007, debut of the seasonal resident show Wintuk at the Wamu Theater at Madison Square Garden in New York City, NY.
The oldest active touring show of Cirque du Soleil, Saltimbanco is converted from a Big Top show to an Arena show. This will allow the show to visit new places where it could not go before, reaching new audiences to capture their imagination.

Cirque presented a Pre-Game Show at Super Bowl XLI (41.), the American football game to decide the National Football League (NFL) champion for the 2006 season at Dolphin Stadium in Miami Gardens, Florida. The American Football Conference (AFC) champion Indianapolis Colts (16-4) defeated the National Football Conference (NFC) champion Chicago Bears (15-4), 29-17. This performance was produced by David Saltz.

On September 25, 2007 – Cirque du Soleil's contortionists, Natasha Patterson, 10, born in San Francisco, Julie Bergez, 14, from France and Dasha Sovik, 15, from Russia, who perform in KOOZA, set a new Guinness World Record??? for the Highest Circus Act ever performed at the top of Toronto's CN Tower, the World's Tallest Freestanding Tower. This feat was performed in the Glass Floor observation deck, 342 meters (1,122 feet) above the ground and as high up on Toronto's CN Tower.

2008
First resident shows outside the United States opened in Asia. Zaia, a production for the Sands Corp. resort and casino ???The Venetian??? at the Cotai-Strip in Macao, China and Zed, a production for the Walt Disney resort in Tokyo, Japan. Also launched was the first production that involves a celebrity and star in his own right, the show ???Criss Angel ??? Believe??? at the Luxor hotel and Casino in Las Vegas.
Delirum, which tour ended earlier in 2008, returned, but this time in big-screen format. It is only shown for a few days at selected theatres within the United States in August and once more for another three days during its ???Encore??? performances in October the same year.

Cirque du Soleil's tribute to The Beatles ???A Day In The Life??? and Carol Woods & Timmy Mitchums (from "Across the Universe") performance of "Let It Be" at the 50th Annual Grammy Awards in Los Angeles, California. In the same year, Cirque du Soleil performed during the day-parade, called "Awakening of the Serpent", for the "Water" Expo 2008 in public at the city of Zaragoza in Spain, Europe. Cirque du Soleil also created a special show for this anniversary, which was performed 5 times on three days at the Colis??e Pepsi in Qu??bec City. In December, Cirque du Soleil presented an almost 1 hour long special one-time performance at the "La Notte Bianca" festival and street performances in Lecce, an ancient and annually celebrated event, in Italy, Europe.

2009
The big-top show Alegria is converted to an Arena show, like the other older Cirque du Soleil production ???Saltimbanco??? a few years earlier. A new touring show with Insects as theme, featuring Brazilian music and vibes, ???OVO??? premiered in April in Montreal, Canada.

Cirque du Soleil Articles in this Series