This article is part of my Cirque du Soleil Information Primer Articles Series.
Cirque du Soleil on DVD
Many of the Cirque's shows are available on DVD, especially the older touring shows. They also created some stuff for television and for IMAX theaters, which is also available on DVD today.
The DVDs are not a substitute for a real life show experience, but some folks did not have the opportunity to see the Cirque at all and the DVDs do a good job to give you an idea of what to expect.
I added links to online stores next to each show or special performance if there are DVD recordings, soundtracks on Compact Disc (CD) and/or tickets to the live show available. Some of those links are affiliate links, which means that I will earn a few cents if you use my link to purchase the item. If you like my content and want to show your appreciation, just use the links provided here, if you decide to buy anything that I mentioned.
I also included links to online videos on video sharing web sites, such as YouTube and Google Video, especially for the shows and special one-time performances where no DVD recording exists.
Watch the video trailer for the Cirque du Soleil DVDs. Very short and nicely edited (by myself hehe). If you are not familiar with the Cirque at all, I promise that you will enjoy the videos. Cheers!

Backup link to video at Vimeo.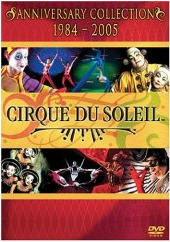 Cirque Du Soleil – Anniversary Collection, 1984-2005
Almost the entire Cirque du Soleil show collection in one set for a price of just a bit over $10 per DVD, that's less than half the price of what you would pay for the included DVDs, if you would purchase each of them individually. A great gift for a friend and a perfect starter kit for your own Cirque collection.
12 DVDs, Region Code 1 (USA and Canada), Note: some of the DVDs are RCE encoded, which means that they do not work with region code free DVD players.
Included in this package are the following Cirque du Soleil shows, special performances and documentaries: La Magie Continue (1986); Cirque Reinvente (1989); Nouvelle Experience (1991); Saltimbanco (1994), the 1994 documentary retrospective A Baroque Odyssey; the Amsterdam-set Quidam (1999); Allegria (1999), the live Sydney show; the Chinese-influenced Dralion (2000), in its standard, non-Superbit release; the relatively short IMAX film Journey of Man (2002); Varekai (2002), from Toronto; La Nouba (2003), from Walt Disney World; and Midnight Sun, strikingly staged outdoors at the 2004 Montreal International Jazz Festival.
Backup URL to Video on vimeo (https://vimeo.com/92760461).
Backup URL to Video on vimeo (https://vimeo.com/92755515).
Backup URL to Video on vimeo (https://vimeo.com/92755512).
Return to the Cirque du Soleil Primer Article.
Cirque du Soleil Articles in this Series