Back to
OSDM Intros by Roy/SAC Home
.
I released a pack of all intros and demos that I created with OSDM since the release of my first Megatro pack in 2009. It includes 18 intros/demos and an interactive menu that I programmed in Pure Basic. I improved it since the first installment of my Megatro. This release is for Windows 32Bit/64Bit Operating Systems (XP/Vista/Windows 7)
In this Pack
ROYMEGATRO2.ZIP - Download the Megatro II (10.6 MB ZIP)

Previous Megatro Releases: Megatro 1


---
---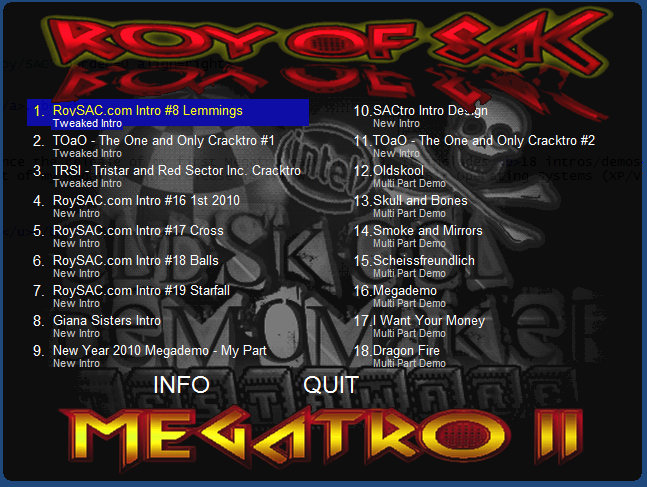 Watch a video capture
of the menu system of Megatro 2 at Vimeo.com.
Full Credits for the Pack Menu System:
Code and Graphics by Roy/SAC
Music: "Giana Highscore 2 Remix" by Ajx aka ajaxdemon 98
Note: This is NOT an official SAC release! None of my OSDM productions are!