I was with my parents and my sister who are currently visiting me here in California at the movies on Wednesday evening. We are usually not much of movie goers and prefer watching movies and other stuff from the comfort of our own homes. However, there was something special that made me go to the movies this week and take my family along with me as well.
Cirque du Soleil's stadium show and music concert "Delirium" finished touring this year. It was launched in 2006 and toured the whole country. I saw the show/concert live in 2006 when they made it to Fresno, California (which actually surprised me).
Cirque du Soleil decided for something unusual after the tour was over. They showed the show in movie theaters, but not for a regular run, like any other movie, no, it was only screened for a few days this August.
When I wrote my post about this back in August I also thought that it will be a run for several weeks and not only an one time thing. I learned about my error the hard way, when I was looking for movie tickets for Delirium here in Fresno. I first thought that it wasn't aired in Fresno at all, but I found out that I missed the show altogether, bummer.
I also learned that Cirque du Soleil decided for an Encore event, which was on October 15, 2008 (Wednesday). I was smarter this time and got tickets. I thought that it will be sold out, but that was just an assumption. The movie theatre was almost empty. Only 4 more people (next to the four of us) watched the show. Okay, it was shown in Fresno's largest movie theatre, the Edwards Stadium at River Park and it was a Wednesday evening (not exactly prime time for movie buffs), but I was a bit disappointed anyway. Not in Cirque, but Fresno, or better the people in Fresno.
Last Chance to see on the Big Screen
In the case that you happen to read my post today, there are two more Encore presentations of Delirium tonight at midnight and tomorrow at midnight as well. It is weekend, so if you do not have anything better planned for the weekend, here is a good option for you.
The movie presentation, which is not an IMAX movie as I thought, convinced me that a DVD release of the concert is on the horizon, probably before Christmas. The Kooza show DVD also came out much earlier than I would have expected, so if the Delirium DVD would be available for purchase at the Cirque Boutique online store next week, I wouldn't be surprised by it either.
Delirium Pirated Promo Video
Because the theatre was almost empty, I couldn't help myself and use my Flip camera to take some video recordings. No, I didn't record the whole show and no, I won't publish everything that I recorded. Wait for the damn DVD and buy it. It cannot be for long anymore. However, I did create a short seven minutes promotional video to shorten the waiting time for the DVD a little bit. I told the marketing folks at Cirque du Soleil, who sent me the Cease and Desist letter last month that their policy regarding the maximum allowed length for promotional videos of 3 minutes is b.s. in the world of the Internet and social media.
To demonstrate my point though, I decided to slice up my 7 minutes video into three pieces for YouTube, non exceeding the 3 minutes mark. To avoid trouble and make somebody really mad, I will only embed video 1 of the trilogy in this post and link to the two other parts. If you want to watch the video as a whole, check out the provided link to the un-sliced version at Google Video and/or download the AVI version in higher 640×480 resolution from Mediafire.com. All the URLs can be found below.
??
Links to Videos Part 1, Part 2 and Part 3 at YouTube.com
Link to .AVI video file on Mediafire.com
an last but not least the link to video in one piece at Google Video
Enjoy the video! Cheers!
Carsten aka Roy/SAC
p.s. some notes on the side. The editor of the movie (not my video) sucked. I think he failed to capture important elements of the show by selecting the wrong shot at some of the scenes. He always had multiple camera angles available to pick from and he picked too often the wrong one IMO. I was also disappointed that the opening act for the show was not part of the presentation.??
The opening act for the show was the Greek/Canadian singer Nitza, which was actually pretty cool too.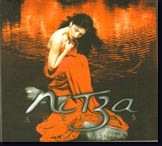 She was doing a mix of traditional Greek music and Western pop/rock music in English. Check out her web site, which is also pretty cool and features some (extensive) samples of her music. You can buy the CD and other merchandise for Nitza right off her web site.
I bought her CD right there at the concert venue in 2006. I hope that the opening show will be part of the DVD release version or of a 2 DVD discs special edition of Delirium or something like that. I have my doubts that Nitza would be against this, so there is no reason for not putting it on the DVD as bonus. It was after all the official opening act during the entire run of the show as far as I know. It would be something that is missing, if it is not included IMO.
Update!
I just saw on her web site that she signed up with Cirque du Soleil again. She is the featured vocalist of the new resident Cirque du Soleil show "Believe", a partner project together with the street magician and entertainer Criss Angel. The show just premiered a few days ago at the Luxor hotel and casino in Las Vegas, Nevada.