I spent quite some time to update content at my RoySAC.com Website. I wrote a whole ASCII art primer article to give you an idea what I am talking about in general. It is for people who do know little or nothing about ASCII/ANSI art, the artscene and the warez scene it operated in.

The biggest addition is the new SAC section, which is dedicated solely to everything related to Superior Art Creations, the art group, which I founded in 1994.

You can find there SAC VGA logos created by SAC members for the group, as well as ANSI logos and ASCII logos, which were created for internal purposes of the group.

The largest addition overall was the new SAC art packs releases page. It shows all 34 SAC art packs, which were released betweeen December 1994 and December 2005, the packs File_ID.diz, download links to the pack files, links to the SAC.NFO files for detailed information about each pack and a brief description for every release.

The descriptions are more detailed than I had originally planned. Because of that, does the page act as SAC history page for now, until a better SAC history page is being created one day. There are some "holes" in it, but I hope to get the missing information and will then update the page accordingly.

I updated pretty much every page of the site, including the home page, the Roy/SAC art page, the shop, the downloads section, the links page and the gallery pages (ASCII Art, ANSI Art, Best Of and VGA Art). The Website navigation was overhauled and has now a much slicker look than before. Here is a partial screen shot of how the navigation of the site looks today.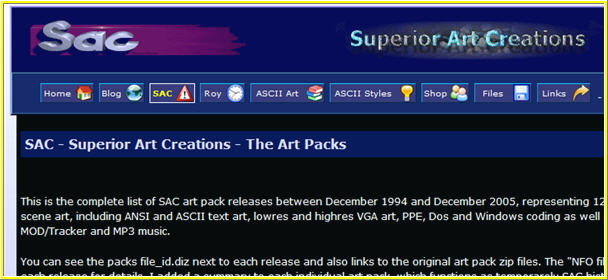 I hope you will enjoy the "renovated" and massive expanded RoySAC.com site. Let me know what you think about it, negative feedback is as welcome as possitive.

Thank you and Cheers!

Carsten aka Roy/SAC