I mentioned it on several occasions that the VNV Nation, a British EBM/Industrial act, is my favorite band for several years now. Several things happened to me recently, which are related to VNV Nation and interesting enough to write about them publicly, so here we go.
A Coincidental Marriage Made in Heaven
Somebody else mixed the song "Illusion" by VNV Nation with the video "Doll Face" by Andy Huang (Andrew Thomas Huang), then still with Root Film, and uploaded it to YouTube.com over one year ago. It is now approaching the 900,000 views mark.
I re-edited and uploaded the video under my account (kind of a dupe), just to make sure that it is there and not getting lost. I also changed the intro and end credits to pay all necessary dues to the respective parties appropriately. I updated the audio too, replacing it with a high quality rip from the album, while I was at it. The main video is based on the original QuickTime file of the "Doll Face" animation. The music and video seem to be made for each other and fit perfect.
The video is also available for download in .AVI format (XVID, Lame MP3) via MediaFire.com here.

Although it is not one of my favorite VNV Nation songs, I cannot deny that it touched me nevertheless.Another interesting part about this video is that it got the attention by Ronan Harris from VNV Nation himself, who did not pull the video, because of copyright infringement and tried to get in contact with the animation creator Andy Huang from Los Angeles, California instead.
They met in October 2008 and plan to work on some new projects together in the future. This video, although not officially a VNV music video was silently acknowledged and approved, used now for viral marketing on the Internet. It contains credits for the creators after all.
Ronan Harris, "Mr.VNV Nation" also wrote about this video at his MySpace blog earlier this month. The song "Illusion" was not released as a single and is only available on the 2007 VNV Nation album "Judgement" (track number 8), published in the United States by Metropolis Records.
To learn more about VNV Nation, visit their official web site at VNVNation.com or their MySpace page at MySpace.com/VNVNation, which is maintained by Ronan Harris personally.
Two Way Communication with my Favorite Band
How do I know about all this? Well, I contacted Ronan via MySpace.com about the video, without knowing that he was already aware of it. I told him not to have the video pulled (because that was not my intention), but to contact Andy, get permission to use the video for an official music video and release the song with this video as an official single. I am an Internet marketer, who also spent some time on online video now, so I kind of knew quite a bit what I was talking about. It was not just amateurish Blah Blah.
Ronan was already working on getting in personal contact with Andy and had already a meeting with him arranged during the short VNV Nation West Coast tour in October/November 2008, where Ronan also worked as DJ for a special event in Los Angeles.
Ronan decided not to pursue the idea of releasing the song as single, which I still believe is a mistake. It has the material for mainstream success and would maybe top the commercial success of the VNV Nation single "Genesis", which made it to number 67 in the German Media Control Charts, along with making it to number 1 in the German Alternative Charts (DAC).
If you like the music, you can buy the "Judgement" album by VNV Nation, which was published by Metropolis Records in the United States in April 2007 via Amazon.com here.

I had some email communication with Ronan where he mentioned that he is looking into doing more with online video, but thinks that it is to costly and too hard to do. I sent him a long response where I encouraged him to do more online video and also provided some tips and suggestions for the content that he could produce and debunked the myth that video production cost for online video are high and not affordable.
I did not get a response to this email yet, Ronan was also on the road, but I hope that he will check some of my suggestions and moves ahead with this idea. I also bugged him about an official VNV Nation Live album, which still does not exist.
Okay, there is the "Pastperfect" Live DVD from 2004 and I ripped the music to burn it on a music CD. That is not perfectly legal, but Mark Jackson from VNV Nation personally suggested to me to do this, back in 2005.
Pastperfect Touches of the Past
Talking about the Pastperfect DVD by VNV Nation, which you can get here btw. The spelling as one word, rather than "Past Perfect", which would be grammatically correct, was done intentionally by VNV Nation, just FYI. …
I put months ago the DVD intro up on YouTube, which is a cool Metropolis-Style like animation, very short, only 1:30 minutes in length, but pretty cool.

You can download this video in AVI format at MediaFire.com here.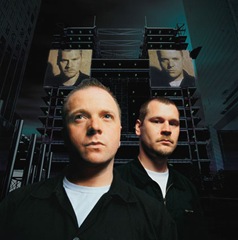 The Metropolis-Style animation was created by the German Media Agency "Raumgleiter" and the great epic music is a remix of the classic "Romeo and Juliet (Julia) – Suite No. 2: Montagues and Capulets", composed by Sergej Prokofieff (1891-1953) (also spelled Prokofiev) in 1936.
I learned all that, when I did some research about it, after another YouTube.com user asked me about the music.
It was true, the music was not typical VNV Nation stuff and sounded familiar, but I did not really think about it, until it was brought up recently. I thought that it is an interesting fact to share.
I also recommend checking out the 3:48 minutes long DVD trailer/promo video for the "Pastperfect" DVD from 2003, which is pretty cool too and also uses some of the video footage from the DVD intro video. It is also available for download in AVI format via MediaFire.com, here.
Enough of EBM/Industrial music and VNV Nation for today

Cheers!
Carsten aka Roy/SAC