The Berlin Wall History – Lessons Learned … Again
I did a long and detailed post about the Berlin Wall in June, titled "The Berlin Wall and the Walls between Us". It also included a 13 minutes extended edition of my video "Berlin Wall – Lessons Learned". It was already version 3 of the video (Here are the links to version 2 and version 1 of the video as well, just for the sake of completeness).
Why the different versions? Well, there are multiple reasons.
First, I improved my editing skills and was able to do things better where I was unhappy about in a previous version of the video.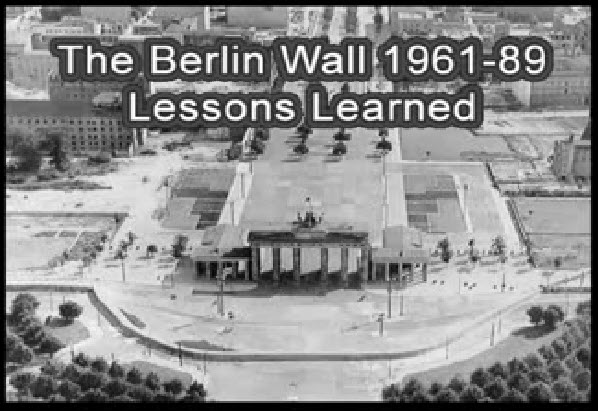 I also got access to new or sometimes just better quality sources. One of the latest discoveries was a high quality video version of the episode "The Berlin Wall" from the National Geographic TV series "Turning Points Of History". That 45 minutes documentary virtually contained the video snippets of all my video sources about the 1950-1970s that I already had from elsewhere (stock footage, public domain etc.), but in much better quality.
I spent the last few days on version 4.0 of my video. This time I did re-created it entirely from scratch. It's not just an edit of the previous version. I even re-cut, re-edited and re-sorted the sources again. This version is a whopping 30 min (almost) long.
Note: Google Video messed something up. It shows only the first 5:41 minutes of the video. I will re-upload it again and try to figure out what the problem is. Once I have the full 30 minutes version up and working, I will update the links in this post.
Google Video seems to be fine again. I used the Google issue period to make some enhancements to the video. It is now also slightly longer than before and surpasses the 30 minutes mark now. (30:20 min or something like that). I also updated the Link to Mediafire.com and got the AVI file-size reduced thanks to the use of H.264 video and AC3 audio compression. It's about half the size of the previous Xvid/Mp3 encoded version, which I deleted.
I also refrained from using any music that might infringe a little bit copyright here and there. It is using all Classic music (with the creators dead for far longer than 50 or 70 years). It is in some cases matching even better than the music that I used before, but unfortunately not always. I had to make some compromises for the sake of legal purity :).
Music Credits
Samuel Barber "Adagio for Strings"
Richard Strauss "Also sprach Zarathustra"
Richard Addinsell "Warsaw Concerto"
Carl Orff "Carmina Burana, 1st mvt 'O Fortuna'"
Franz Schubert "Serenade"
Georges Bizet "Carmen Suite No. 1 & 2"
I don't think that using the National Geographic documentary footage (logo blurred out) is an issue, because they also just used stock footage from CNN and other media sources. This video is not commercial in nature and CNN and others should not have a problem with my use of their stock footage.
So here is the 30 min video
Feel free to comment and tell me what you think about the video. I am also open for any suggestions, praise and criticism :).
Cheers!
Carsten aka Roy/SAC
Comments (13)
© 2023 - Roy of Superior Art Creations