Le Reve Show Will Go "Dark" in Two Weeks

I just received new that Le Reve, the (unofficial) and my personal favorite Cirque Du Soleil show which is currently running at the Wynn Las Vegas Resort and Casino in Las Vegas, will go "dark" on March 6th for a whole month.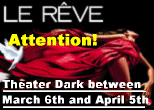 The show will be back in April, April 5th to be precise. There will be a new pricing structure after the relaunch of the show in April. Here is the current and the upcoming pricing structure in comparison.



Pricing
until March 6th
??

starting April 5th
$79 Rows M-O
$99 Splash Zone Rows A-C
$119 Rows D-L
??
$99 Rows A-B
$119 Rows C-K
$159 Row L – VIP INDULGENCE PACKAGE


No $79 ticket anymore. The cheapest ticket is now $20 or 25% more expensive. The highest price ticket will be $40 more than the current high price tickets, but that is a bit misleading. The tickets that are today $119 will remain $119. What's new is the VIP Package.


The VIP Package includes.
Seating in the Champagne Circle, which is the back row of the theater, that will be completely reconfigured with very generously-scaled, plush, luxurious seats and loads of leg room;
One bottle of complimentary Perrier Jouet Champagne per couple (or half bottle for individuals) with exclusive bottle service
Chocolate covered strawberries
The Wynn will install video monitors in the Champagne Circle which will give a private peak behind the scenes as well as underwater and overhead angles of the action during the show!
A "Privileged Access" pass for food and beverage outlets at WLV (excluding Tryst). Packageholders will be given a lanyard at will-call which will identify them and will give them line pass and complimentary access to LURE as well as priority access to reservations and/or seating at the dining establishments on property. These passes will be date stamped and valid for day of performance only and will be distributed at the WLV Box Office within 24 hours of show time;

It seems that the package will only be available for a limited time. From April 5th to June 4th. I assume that after June 4th will the prices return to normal and a VIP pass will not be available anymore.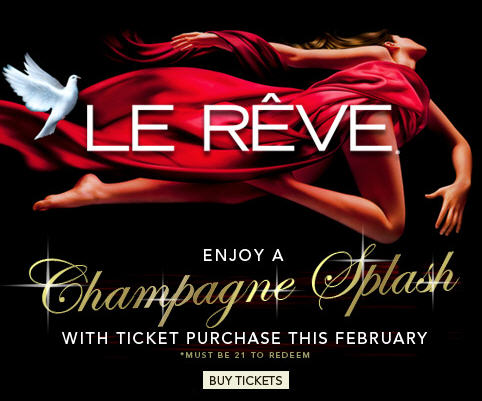 The offical announcement of all this was done by the Wynn Resort and Casino yesterday. Tickets for the April to June Shows will go on sale online any moment now, but there is an alternative option for anybody who does not want to wait until April or later.
You can get a tast of the upcoming VIP package, if you act quickly. Until the end of February are you getting a complimentary champaigne splash with any ticket to the Le Reve show.
Only eight more days
to go, so act quickly.
Cheers!
Carsten aka Roy/SAC
© 2023 - Roy of Superior Art Creations